1938 Dodge sedan – Mabel
Personal project
Mabel the Dodge is a project I've had for more than ten years. Unfortunately, she is still in a state of disrepair, but much has been done. The picture to the right is how we found her, and she's been completely taken apart and quite a bit of rust repair and accident damage fixed on the rear roll pan area under the trunk.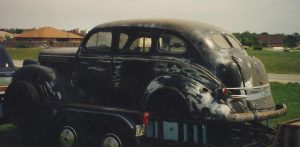 Frame and running gear
cross between restomod and hot rod
Mabel the Dodge had a nice frame and front end replacement when I bought her. The front end is a mustang II that was well done. I have upgrade to a bigger disc brake kit and it will have a power rack and pinion when we get to that point. The rear end was an oddball Mopar unit with some extremely tall rear gears. It was not centered well and was a little too wide. I have swapped a 9 inch Ford with 3.70:1 gears for now, but they are more easily changed with the center section being more easily swapped.
The engine was a small block Chevy, but that engine ended up in another project that got sold. Meanwhile, a 1957 Cadillac engine became available, so that engine along with an overdrive transmission was fitted into the frame. It was a tight fit, but the firewall had already been crudely hacked out, so a custom firewall and transmission tunnel was fabricated with the able help of Ward, our sheetmetal fabricator at the shop. The transmission is a GM 700r4 mated the older engine with an adapter available commercially.
Interior and dash
Customized from old parts to hide new stuff.
The interior is not finalized yet, but the dash is customized from a mix of the 1938 Dodge dash foundation, the instrument cluster from a 1952 Mercury, and the steering column and wheel from a 1953 Lincoln. Search on youtube.com for Offbeat Motors and you will find a playlist for the Dodge Dilemma. There are many videos about the rust repair, firewall fabrication, engine fitting, and all of the dash fabrication, brakes, steering and more.