1966 Ford F100 – Harriet
We acquired Harriet from an online auction site quite a few years back. When she got to the old shop, she was a little worse for wear, enough so that some rust repair and a brake job were necessary before she even hit the road. The cab mounts and toe boards were redone with new metal and a few other minor rust problems were cut out and made solid. The brakes were kept stock at first, just rebuilt.
The truck was very original, and talking to the previous owner, it was discovered that Harriet had originally worked for the city of Salinas, KS when new, and then got a new job on a farm later in line. The man we bought her from had gotten her from the farmer. She has always been a work truck, and in that vein has become the shop truck for Winding Road Classics. Ginny named her Harriet because as a work truck – "Harriet can carry it!"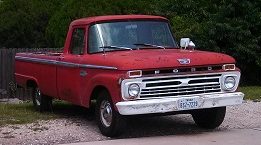 Engine and transmission
Straight six workhorse.
In 1965, Ford introduced their venerable straight six in both 240 and 300 cubic inch versions. Harriet came from the factory with the 240 and a four speed manual with a granny gear. The rear gears were 3.7:1 ratio in the standard 9 inch Ford rear. This worked fine for a little while, but after a tuneup, gas tank cleanout, and more driving, it became apparent that the 240 was worn out and ready for a rebuild. I drove and used the truck for the shop about two years as it came to me.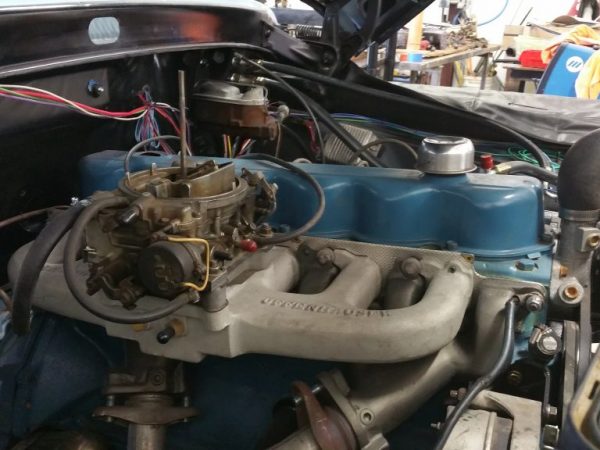 Redoing a worker
Top to Bottom attention for a purpose.
Thanks to the law of "while I'm there I'll go ahead and do…", Harriet ended up getting a pretty major makeover. I had the engine out and went ahead and rebuilt the transmission, then changed gears in the rear end to a more highway friendly 3.25:1. Then I wondered if the old frame was going to be strong enough to pull a car trailer, so I boxed the back half of the frame and welded in new crossmembers to support the hitch receiver.
Repaired a little rust in the bed and then decided the red was just not my favorite, so decided on blue. Started sanding off old paint and primer, put undercoating on the bottom of the cab, painted everything and started reassembling. While some of that was going on, I mixed and matched parts from swap meet engines and new pistons and ended up with a 300 cubic inch engine with a Melling "RV" cam that helps make a little more power down low in the RPM band. I finished off with an Offenhauser C intake and a 450 cfm Edelbrock, another swap meet find. The exhaust manifolds are from a later EFI 4.9 Ford, which is the same block but different head and intake. They flow well and Walker exhaust makes a 2-1 tube collector. Single 2-1/2″ exhaust through a single muffler. I kept the 4 speed originally and this was a really good combination and pulls the trailer effortlessly.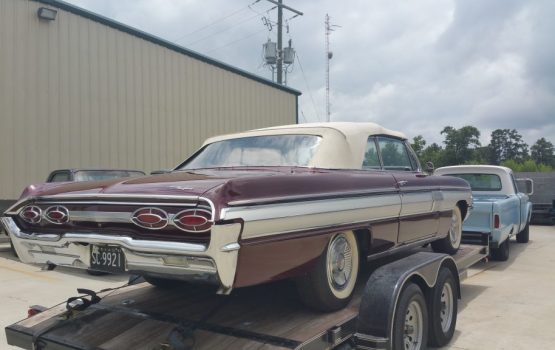 Harriet the Blue
Fuel injection and automatic transmission.
After driving the upgraded combination for a while, I got tired of shifting the manual transmission all the time. Most of my driving is around town, so I sourced a C6 automatic transmission, got it rebuilt, and changed Harriet to automatic shifting. Prior to that, I had installed a standalone fuel injection unit on a customer's car. It ran so well and the customer was happy so I decided to do that with Harriet as well. They easily install on four barrel manifolds, so it was a pretty easy swap. Harriet became a very well mannered truck after that. There is still plenty of power to pull the trailer with a large car or truck on it, and the engine starts easily no matter the weather.